SUEZ Shrine Clubs
Abilene Shrine Club - Abilene, TX
Meetings: 1st Monday, 6:30PM
P.O. Box 2334
Abilene, TX 79604
Phone: (325) 537-2420
President: Anthony Bennett (Erin)
Secretary: Ron Houghton (Christy)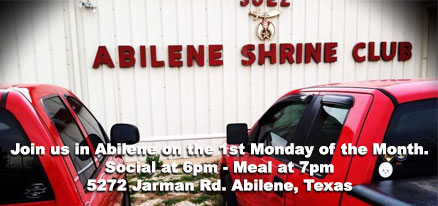 The Abilene Shrine Club has been very busy lately. Our members are building up the Abilene Klown Unit, getting the Model T's fixed up, our next Parade in Abilene will be on May 11th for the Western Heritage Classic. We have welcomed some new Nobles that have recently moved to the area and we extend a warm welcome to all who pass through or live in our area to join us on the 1st Monday of the month for our Social
The Abilene Shrine Club is home to Current Potentate Illustrious Sir Tim Dillon and several Past Potentates. We would love to see you at one of our socials that start on the 1st Monday at 6:30pm, Meal at 7pm. 5272 Jarman Rd
President - Anthony Bennett 1st Vice – Mike Sherman 2nd Vice – Donnie Vanadore Sec/Treas - Ron Houghton 2018 Director - Wes Benson 2018 Director - Jody Murillo 2018 Director - Lee Ramirez Sr. 2017 Director - JB Cloud 2017 Director - Patrick Bruton 2017 Director - Barney Johnson
Be sure to check out our the Abilene Shrine Club facebook page at: https://www.facebook.com/abileneshrineclub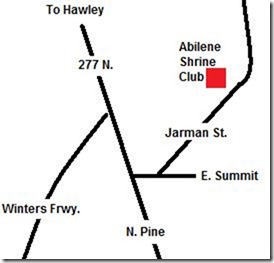 Concho Shrine Club - San Angelo, Texas
Meetings: 3rd Friday of Every Month
Suez Shrine Center
San Angelo, Texas 76904
Phone: (325) 481-3239
President: Ken Prescott (Jackie)
Secretary: James Caillouet (Rachel)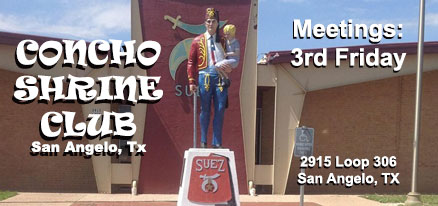 Head down for Stated and come back for the Concho Shrine Club meetings. We will have more information coming about this club soon.
Heart of Texas Shrine Club - Blanket, Texas
Meetings: 4th Tuesday - Travelers Club
3600 County Road 295
Blanket, Texas 76432
Phone: (325) 642-6281
President: Anthony Strawn (Sandi)
Secretary: Jimmie Sharp PP (Teenie)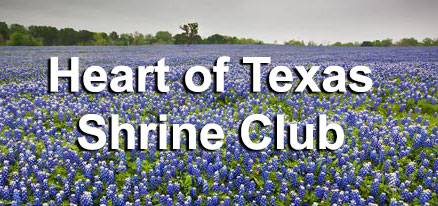 The Heart of Texas Shrine Club serves Brownwood/Early and they do not have a dedicated building. Please call before you arrive. They meet at the Travelers Club on the 4th Tuesday of the month.
Midland Shrine Club - Midland, Tx
Meetings: 3rd Thursday - 6:30pm
PO Box 80203
Midland, Tx 79708
Phone: (432) 556-8504
President: Danyl Dormady (Cassi)
Secretary: John Cox (Virginia)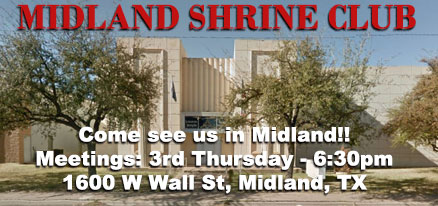 We would like to thank the Divan & their Ladies for making the trip to Midland for our March Social. The meeting was a great success with much fun & fellowship for all. On March 18th, the Masons of Midland and WM Cody Webb from Concho #1260 cooked and fed over 55 people at the Church Under the Bridge in Midland. Cody donated of over 20 pounds of meat which we combined with the fruits and vegetables that we purchased. The Church Under the Bridge has already asked us to cook for them again in the future. We are so thankful for such a young Worshipful Master in Noble Toby Littlefield who leads his Acacia Lodge #1414 to get out and do community service. Once again, thank you to all who helped cook and serve at this event. There is a lot of degree work going on at the local lodges in the Permian Basin and if you are interested in visiting or coming by, please feel free to contact one of us or stop by 1600 West Wall Street. Midland #623 meets on the 2nd and 4th Thursday at 7:30pm, Acacia Lodge #1414 meets on the 1st and 3rd Tuesday at 7:30pm and Centennial Lodge #1448 meets on the 1st and 3rd Saturday at 8:30am. Our annual Golf tournament will be on June 10th at Ranchland Hills Country Club. If you are interested in playing or volunteering, please contact Danyl Dormady. We hope that everyone enjoys their Spring.
What a great club and out furthest out West. It may take some a long drive to get there but you will be glad that you made the trip. The Midland Shrine Club is located within the Midland Masonic Bodies building at 1600 W Wall St, Midland, TX 79701
Nolan County Shrine Club - Sweetwater, Texas
Meetings: 1st Tuesday 6:30pm (dark Jun-Aug)
PO Box 1232
Sweetwater, Texas 79556
Phone: 325-669-2144
President: Jim McKenzie (Linda)
Secretary: Tommy White (Carol)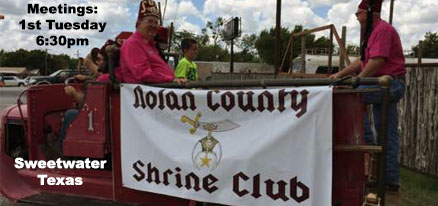 March was Big Fun for us in Nolan County. For our March social, PP Jim McKenzie grilled Ribs, hominy casserole, buttered potatoes, beans and French Bread. The Ladies brought salad and tons of desserts. No one left hungry. Great Shrine Meeting. That same week kicked off the Sweetwater Rattlesnake Roundup. A big thanks to all the Nobles that showed up for the Parade that Thursday. We took some great pictures.
2017 Officers
President - Jim McKenzie PP (Linda) Jim.McKenzie@LoneStar-LLC.com
Vice-President - Mike Buckner (Sandy)
Sec/Tres - Tommy White (Carol)
Snyder Shrine Club - Snyder, TX
Meetings: 2nd Tuesday - 6:30PM
P.O. Box 206
Snyder, TX 79549-0206
Phone: (325) 573-5233
President: Dalton Walton (Linda)
Secretary: Dalton Walton (Linda)
Tri-Cities Shrine Club - Eldorado, Tx
Meetings: Quarterly
PO Box 1056
Eldorado, Tx 76936
Phone: (325) 853-2670
President: Danny Crowder (Libby Preston)
Secretary: Danny Crowder (Libby Preston)